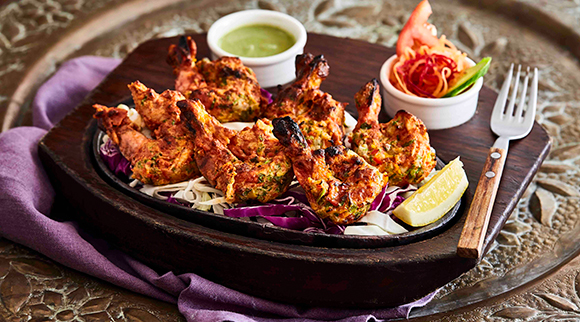 Aatish-e-Jheenga
A colourful cracker prawns kebab topped with bell pepper,onion and coriander flavoured egg coating.
Fish Ambarsari
A crispy golden fried fish with a gram flour batter of ajwain, ginger and lemon juice.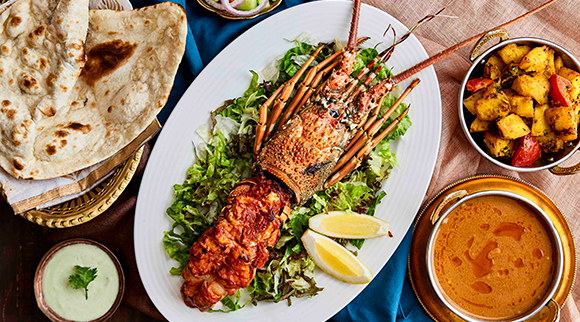 Tandoori Lobster
A signature dish made-to-order. Tandoor grilled whole omani lobster,flavoured with garam masala and Kashmiri chilli.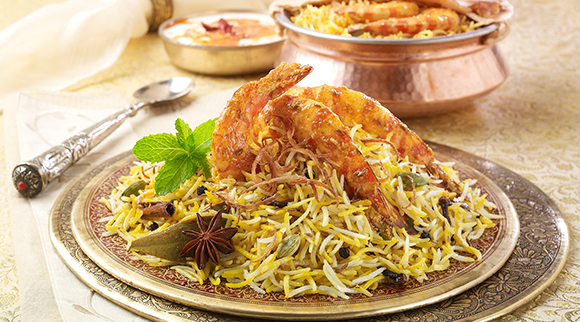 Prawn Biryani
A royal indulgence of masala tiger prawns layered on fragrant biryani rice with a hint of cardamom, mace and fresh mint.
Awadhi Machhi
A royal preparation of hammour simmered in enriched gravy of coconut milk, cashew nuts, caramelized onions and kewda.
Jheenga Dumpukht
Tail-on jumbo prawns sealed in aromatic dumpukht gravy with aroma of cinnamon, rogan & chili oil.